Training Visa
The purpose of this visa is to provide you with the opportunity to participate in workplace-based occupational training activities to improve your skills for your job, area of tertiary study, and field of expertise or to participate in a professional development program in Australia.
A training visa subclass 407 can now be acquired by individuals who wish to become skilled in their field, gain experience in Australia, or achieve professional development in their field of choice. In most cases, the visa is granted for a maximum of two years. To qualify for a training visa 407, an applicant must only undertake work-related training in Australia in order to meet occupational registration or permitting requirements, improve skills within their profession, or gain international experience.
A 407 Visa Australia is a purely work-related visa. It can only be granted under the specific undertaking that the user will not engage in any paid employment more than their training obligations. If you do this, you could be subject to cancellation under condition 8102. A functioning health insurance policy must also be provided inside the Australian territory and during the applicant's stay in Australia, as with any other visa application. For an understanding of the regulations of this visa, it would be best to consult with us.
The Visa Subclass 407 allows holders to enter Australia for the purpose of receiving training in their field of expertise to improve their proficiency. A 407 Visa Australia enables the bearer to remain in Australian territory and receive the training he or she needs.
What Are Subclass 407 Visa Conditions?
Visa Subclass 407 requirements must be strictly observed by the candidate aiming to have a chance of acceptance. Failure to meet the requirements may result in the cancellation of the application. There are several subclass 407 visa conditions that applicants need to follow carefully, including:
Applicants must be at least 18 years old.
Temporary activity sponsors are required to nominate applicants.
Applicants must obtain an insurance policy covering their entire stay.
Documentary proof of passing "Functional English" tests should be available.
The applicant should meet health and character requirements.
Following Steps Apply
Online Visa
We provide skilled staff to help you get the most out of your immigration. Our qualified and
dependable Immigration Consultants can assist you in obtaining a favourable result in your case.
Fill In The
Required Form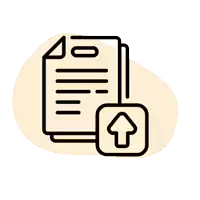 Submit All Your
Documents
Get Ready for
the Outcome