Skilled Visa
Australia offers skilled visas to individuals and families looking to migrate permanently to the country to fill its skill shortages. General Skilled Migration offers permanent visas only to either independent applicants, State / Territory sponsors, or family sponsors following points testing.
Australian work visas are available to skilled migrants under the General Skilled Migration (GSM) program. A visa through this program may be available if you want to work and live in Australia.
The General Skilled Migration program applicants can apply for permanent residency based on the Skilled Occupation List.
Choosing SuccessVisa for Skilled Migrant Visa
There are many skilled shortages in Australia that require the migration of qualified and experienced migrants. People with different circumstances can choose from various paths to Australian residency. Our team at SuccessVisa helps people looking for skilled visas in Australia choose the best visa option for them and turn their dreams into reality, using our experience and expertise.
For the best chance of success, we ensure people get the proper visa and all the necessary documentation. Should you be afraid of having your application rejected or unsure whether you meet the requirements, we can offer you the peace of mind that comes with knowing you're in good hands.
Make Your Skilled Migration Visa Application Now
For those seeking a more in-depth understanding of which skilled migrant visa is right for them, we offer a range of services on our website, or prospects can book an appointment to clear their doubts. You can find all the resources you need to decide on your next step from our free list of skilled workers occupations, which you can download to see if your occupation is in demand, to our points calculator to see if you are eligible. We can help you prepare and submit your application with the highest chance of success when you're ready to contact our team in Sydney. Some Skilled Visa with subclasses are as follows:
Skilled independent visa (Subclass 189)
Skilled Nominated visa (Subclass 190)
Permanent Residence (Skilled Regional) visa (Subclass 191)
Skilled Work Regional (Provisional) visa (Subclass 491)
Following Steps Apply
Online Visa
We provide skilled staff to help you get the most out of your immigration. Our qualified and
dependable Immigration Consultants can assist you in obtaining a favourable result in your case.
Fill In The
Required Form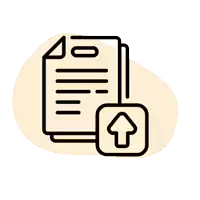 Submit All Your
Documents
Get Ready for
the Outcome