"Successful organizations make habits of things others don't like to do, or don't find time to do."
Don House
We are pleased to welcome you to SuccessVisa, your premier educational and migration consulting company.
Established in 2020, SuccessVisa is a leading educational consultancy with a global presence, headquartered strategically in Australia. Our journey over the past three years has been remarkable, a testament to the visionary leadership of our Founder & CEO, Mr. Amit Kansal, Director Mrs. Palak Gupta and a team of seasoned educational professionals. Our remarkable trajectory has earned us the unwavering trust of our valued clients, which has led us to unprecedented heights.
A Team of
Excellence

- Qualified and Experienced Professional

Our success story is woven by a team of highly qualified and experienced professionals who bring diverse expertise from the educational sector. The synergy of skills that we possess enables us to provide clients with exceptional assistance and services tailored to their unique needs.
Global Trust Built on Expertise
We have established collaborations in Punjab and Haryana (India) as a testament to our commitment to excellence. With these partnerships, we are able to provide seamless services to our offshore clients and deliver customized solutions based on our extensive knowledge of the offshore market.
Personalized Solutions Through a Global Network
In SuccessVisa, our strength lies in our extensive network of immigration professionals located throughout the world. We are able to provide tailored solutions tailored to the unique circumstances and aspirations of each client as a result of this network. We ensure a successful outcome for our clients by gaining an understanding of their specific requirements in-depth.
Our Business
Values
Aesthetics
As a company, We remain committed to the established approach of business when dealing with our clients while adhering to ethical practices.
Developing Relationships
We are guided by relationships in our decisions, actions, and priorities. Our relationships with clients, consultants, employees, and communities drive us to strive for excellence every day.
Efficacy
We respond quickly to client and candidate needs by streamlined and seamless processes. Automation optimizes employee time, facilitates communication and information sharing.
High-Quality
Clients expects quality. We listen to our clients to understand their needs and combine that with creative approaches to engaging high-quality consultants.
Information
It is a complex process to obtain an Australian visa. Applicants are carefully selected based on their eligibility. To keep latest developments and changing laws, our consultants always keep up with the latest developments.
Trust
We follow traditional paradigm of business while engaging in client dealing by encouraging ethical approach in our service.
Following Steps Apply
Online Visa
We provide skilled staff to help you get the most out of your immigration. Our qualified and
dependable Immigration Consultants can assist you in obtaining a favourable result in your case.
Fill In The
Required Form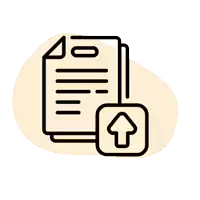 Submit All Your
Documents
Get Ready for
the Outcome